Which CBD Oil is best for Dogs. When choosing what CBD Oil to purchase it is best to opt for Organic CBD Oil for Dogs. Atlas and Tail have a CBD Oil that is blended with Organic Salmon oil.
What does CBD Oil do for Dogs?
CBD does not contain THC, therefore it does not contain any intoxicating ingredients. It can reduce inflammation in the body, reduce pain and induce a state of calm without having any negative side effects.
CBD Oil Benefits for Dogs
Relives pain – great for arthritis & joint pain
Reduces inflammation
Can help in managing epilepsy and seizures
Reduces anxiety and stress
Has anti nausea effects
Promotes cardiovascular health
Stimulates appetite
What Strength CBD for my Dog?
Atlas and Tail have three different strengths of hemp oil. When choosing which strength to purchase it is based on the severity of your dogs symptoms.
The options available are 3%, 5% and 10%.
Example:
3% – Mild pain, mild anxiety, mild symptoms in general
5% – Moderate pain, moderate anxiety, moderate symptoms in general
10% – Severe pain, severe anxiety, cancer, epilepsy
Only you know how much pain your dog is in or how anxious they are. Therefor it is best for you to make the decision as to what strength your dog needs. For dogs with arthritis or epilepsy we recommend opting for 10% strength. Can I overdose my dog with CBD? Each bottle contains a dosage guideline to ensure you give the correct amount.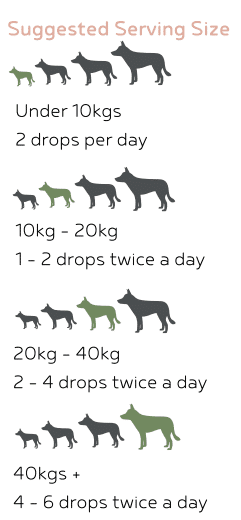 Can I give CBD everyday?
Yes. There is no problem giving your dog CBD every day.
How long does it take for CBD to take effect for a dog?
The positive effects can be seen within 30 minutes. Organic CBD oil for dogs typically keeps its effects for 4 to 12 hours, this is why we recommend splitting the dosage in the day. Provide your dog with a morning and evening dose for maximum effect.