There is nothing worse than seeing your dog stiff, lame, in pain and struggling on a daily basis due to arthritis. The harsh pain killers generally prescribed to manage the pain can be tough on their stomachs, causing undesirable side effects. Not to mention the worry they bring when used long term. NSAIDs can be tough on the digestive tract, liver and pancreas.
Not only do we worry about the short and long term side effects of heavily dosed pain killers for our dogs but we also worry about the joints themselves. Yes these tablets or liquid pain killer will reduce the pain but will they do anything for the condition itself? Will they prevent the joint from deteriorating further? Generally not.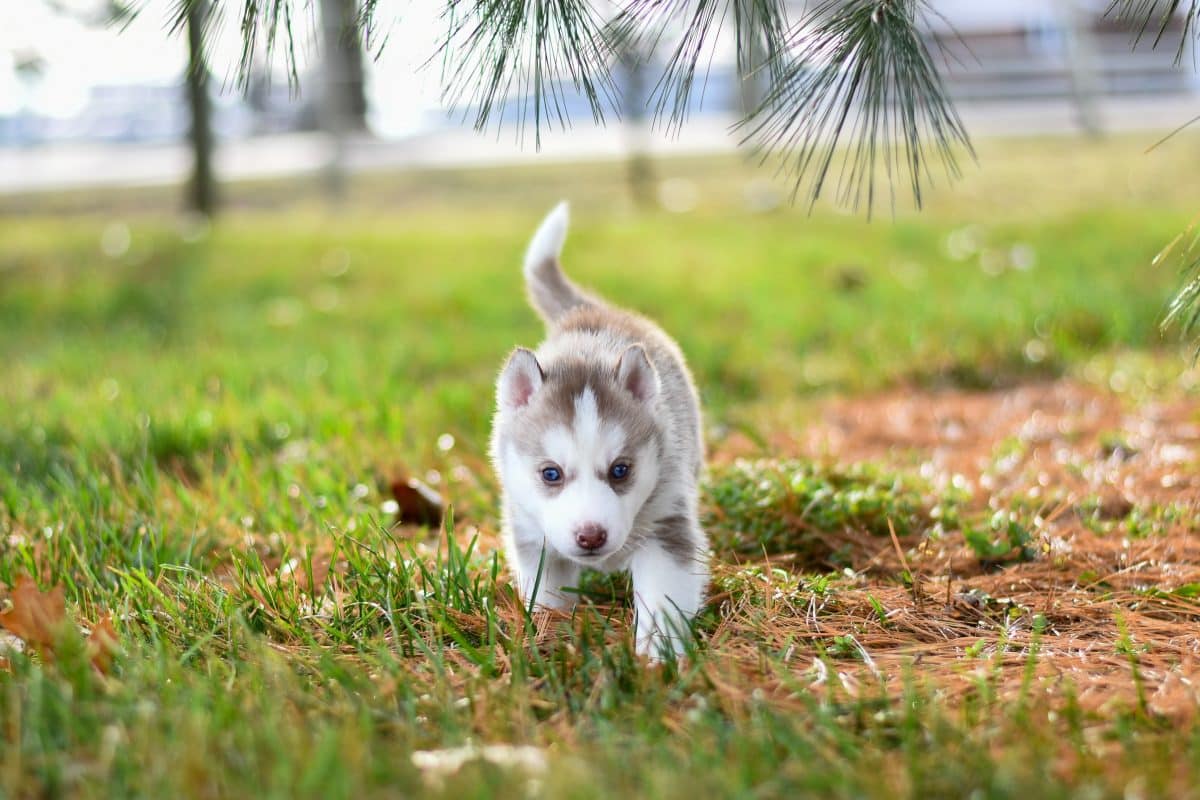 Can Puppies develop arthritis?
Yes! Absolutely puppies can develop arthritis from a very young age. Their skeletal development in first the 1 to 2 years is crucial. So how you you prevent arthritis in dogs? Genetics play a large role in the possibility of them developing conditions such as hip dysplasia and spondylosis. However you can minimize the impacts of these conditions by feeding your dog a nutrient rich diet alongside natural herbal supplements.
At Fetch we love to see puppies developing on a Raw diet, the benefits are endless and it ensures they receive the correct nutrients that are easily digested. You can view the raw diet range here.
A raw diet is not for everyone though, many circumstances may mean you need to choose kibble for your puppy instead. In this case we recommend Nourish Rite, a grain free, high meat content kibble that uses freshly prepared ingredients. You can view the Puppy range of Nourish Rite.
If you know that your puppy is at risk of developing arthritis or any other bone and joint condition it is crucial that you supplement their diet with Flax-Ability. Prevention is always better than cure. We recommend giving it to them, once they are over 12 weeks old.
Natural Pain Management for your Dog's Arthritis
For the Adult dog, we recommend various different approaches to arthritis depending on the stage they are at with the condition.
Bone and Joint Support – Flax-Ability
A potent arthritis supplement, Flax-Ability is made from cold pressed flaxseed oil and a blend of herbs. Supporting the health and strength of your dog's bones, joints, and muscles.
All dogs can benefit from extra support for their musculoskeletal system, but this holistic supplement is especially helpful for aging, arthritic, weak, stiff, or injured dogs.
Aids in joint mobility & strength
Encourages healthy bones
Rich in Omegas 3 & 6
Reduces swelling and eases discomfort
Reduces inflammation throughout the body
Packed with essential nutrients, vitamins, and minerals
Supports healthy skin and coat
Aids digestion & boosts immunity
We recommend giving this at the very early stages of their condition to prevent their symptoms worsening over time. It was an absolute game changer for our Rottweiler cross girl, Ameera.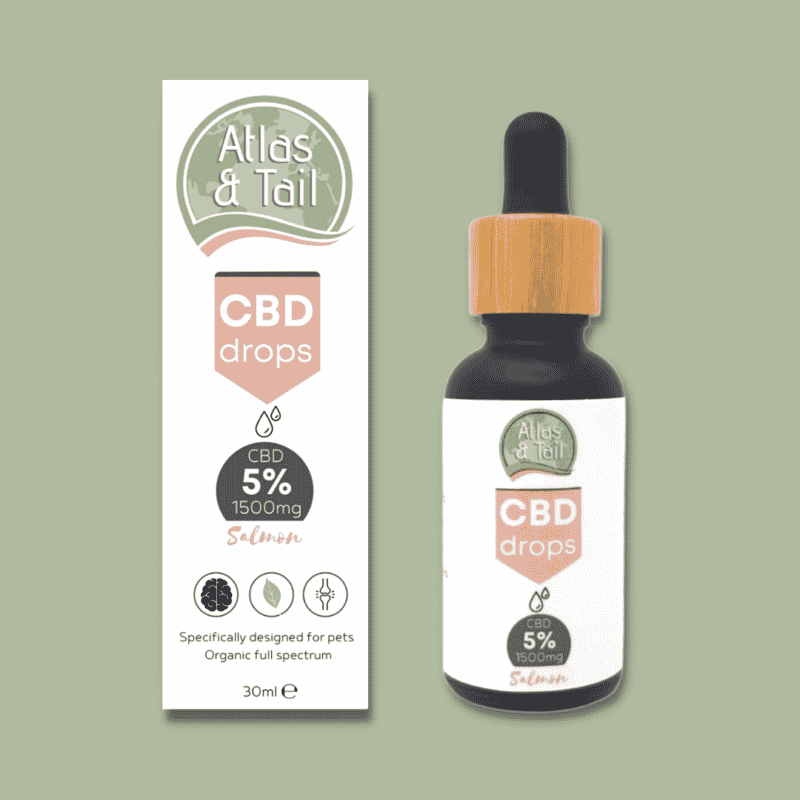 For dogs that are in pain, the condition has worsened and they are stiff after light exercise, we recommend introducing CBD. It is a fantastic natural pain reliever with no nasty side effects.
The size of your dog and the stages of their condition plays a role in how much CBD oil you give them. Check out the dosage guide under the Atlas and Tail CBD Oil to pick the best suited CBD oil for your dog.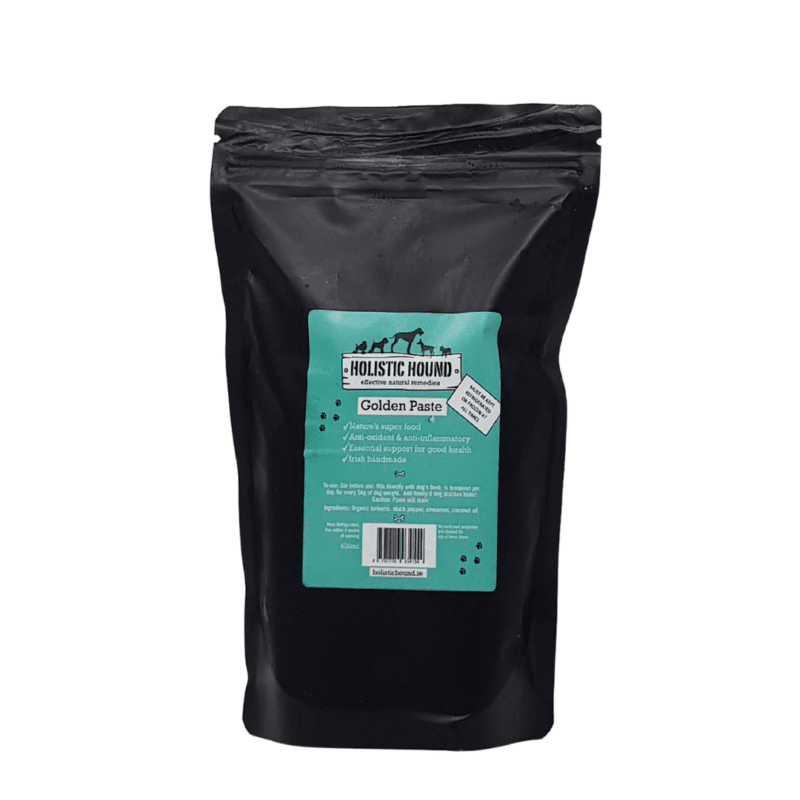 Golden Paste gets 5 star reviews over and over again simply because it is absolutely fantastic for so many health conditions including arthritis.
We highly recommend this for older dogs, those that are struggling with their mobility, post surgery and even just a general all round booster.
We wrote a blog about Golden Paste some years ago – have a read.
What has worked for Ameera?
If you have ever spoken to me about your dog and their joint condition, you have more than likely heard about Ameera. For those that have not, here is a little bit about her.
Ameera is a Rottweiler Cross girl that I adopted from Cara Rescue Dogs 7 years ago now. At 4 months of age she was having difficulties with her hips. From there I began supplementing her diet with bone and joint tablets. Unfortunately though we did not have the products we have available today, back then.
By the age of 2 she was lame after exercise, stiff and in pain. There was no surgery that could be done to relieve the condition. Ameera was prescribed different pain medications by the Vet. They caused diarrhea, bloody stools, agitation. Nasty side effects and no benefits, the stiffness was still bad.
At 3 years of age we discovered Golden Paste produced by the wonderful ladies of Holistic Hound. This made a difference for another 2 years. Although she was on various different supplements with glucosamine and chondroitin, we even tried bovine colostrum. We were running out of options and by the age of 5 the right leg was up more than it was down.
Ameera has been on a raw diet since the age of 2. Her muscle mass was depleting dramatically on a kibble diet. By feeding a raw diet it ensured high quality proteins were available to support her muscles. We also feed chicken feet, chicken necks, marrow bones and many other types of bones throughout the week. This provides the bone and joints with crucial nutrients.
At 6 years of age she had surgery to remove the femoral head. This was torture for her and for me. The pain she was in afterwards was breaking my heart. We started her on CBD and it eased the pain instantly. The leg itself though was not 'loosening' up, the muscles were tight and not allowing the joint to fully heal.
That is when we started her on the Cold Pressed Flaxseed oil based supplement and the difference within 1 week was fantastic. That is the Flax-Ability above.
2 years on from surgery and we are in a better place, she is fully weight bearing, no pain and loving life.
Ameera's treatment includes: x1 Tablespoon of Golden Paste , x8 drops of 3000mg Atlas and Tail CBD, 20ml of Flax-Ability and x1 5g scoop of Flexi9.
Update August 2022
As Ameera gets older inevitably she has been having days where she is more stiff and lame. Having tried every other joint supplement on the market over the years, I though there was no more. I research every single item before choosing to give it or stock it.
When I found Atlas and Tail Flexi9 , I danced, literally!! The composition is next level and the quality of the Green Lipped Mussels is fantastic.
I started to trial Ameera on this in July. Week one she was less stiff, more active and overall happier in herself. Roll on 4 weeks later and she is in the best condition she has been in, in a long time. It is a life saver!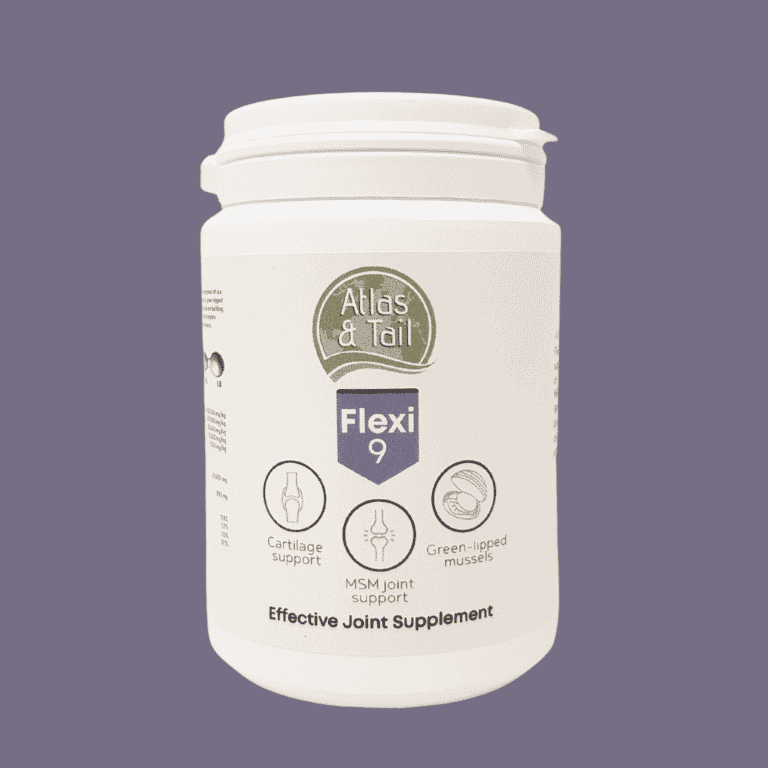 August 2022 , Ameera's daily supplements include: x1 Tablespoon of Golden Paste , x8 drops of 3000mg Atlas and Tail CBD, 20ml of Flax-Ability and x1 5g scoop of Flexi9.